I am so excited to show you the newest addition to the family! My husband and I just spent the last three days working our hearts out trying to get her refinished, and I am so pleased with the results.
Cupboard space in my kitchen is very limited, and for quite some time I have been looking for something I could do to give myself some more storage. Last summer my Grandmother passed away. Shortly after her passing, I was talking with my dad and telling him that I had been looking at garage sales for a hutch to put in my dining room. He immediately told me that Grandma had quite a few hutches in her house and that he would make sure to get one, as part of his inheritance, to give to me. A few weeks later, my aunt texted me pictures of all the hutches in the house, and I decided to go with this one. Yep, this is the original picture she texted me. In my excitement to get her refinished, I forgot to take a before picture!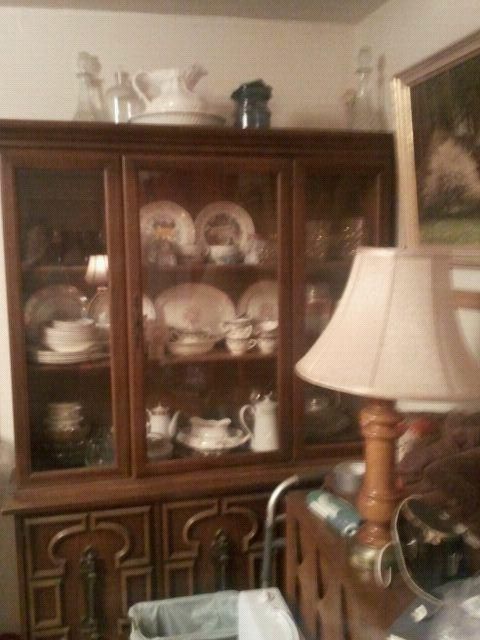 I was able to make a trip back home a few months later and see it in person. This hutch had always been in Grandma and Grandpa's living room, but I hadn't paid too much attention to it before. At first sight, the husband and I both agreed that the big brass pulls on the bottom had to go and we talked about taking all of the detailing on the bottom off. Since we had no way to bring it home with us, it sat in Idaho for another three months until my parents were able to bring it to me.

This week we finally tore into her.


First, I gave her a good scrub down. Next, we removed all of those lovely brass pulls and all of the hinges. Then I put wood filler in all of the holes and sanded. After that, I taped all of the glass, because at this point, I hadn't realized that I could pop the gaskets off and take the glass out. Lesson learned.


Then (in the garage) my husband applied the primer. We used Zinsser oil based primer, as recommended by
Centsational Girl
. After it dried, we brought it into the house and I got to work painting. I figured since I was using the same paint I put on the wall in my bathroom, that it would be okay to paint inside with the back door popped open.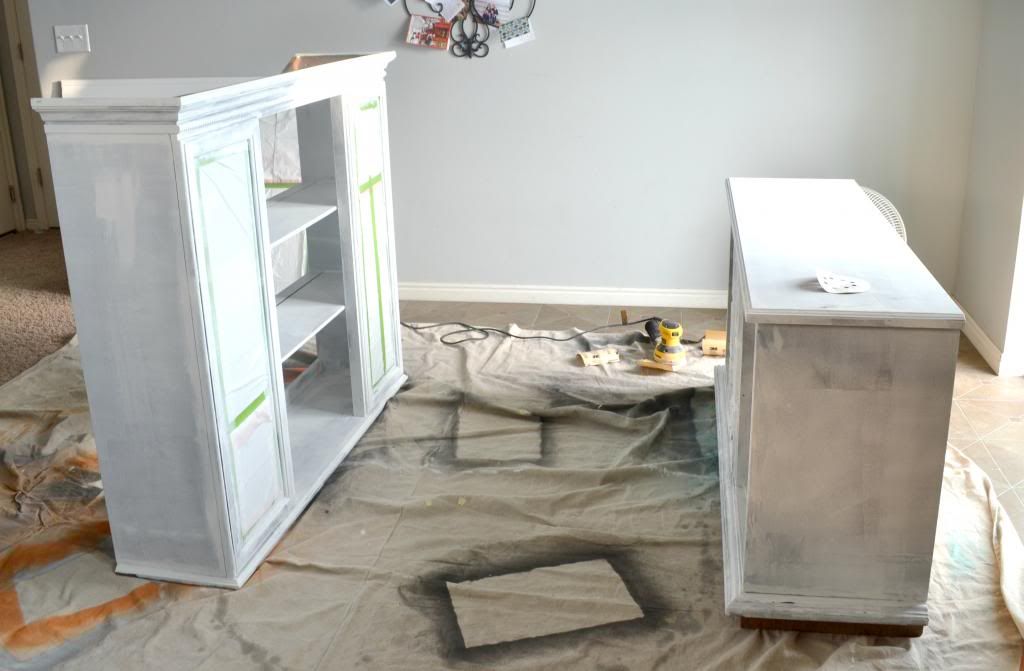 After reading quite a few tutorials on refinishing furniture, I decided to invest in some Floetrol and a good quality angled brush. Floetrol helps slow drying time so your paint will flatten out and you won't leave brush marks behind.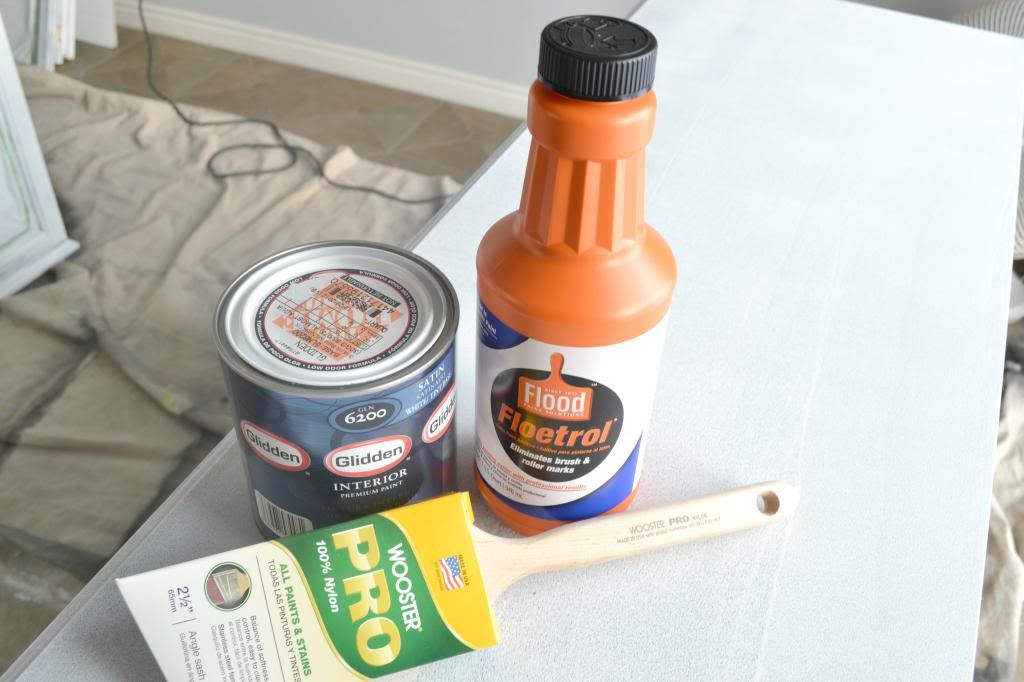 Then I painted and sanded. And painted and sanded. Then I got discouraged because it wasn't looking at all how I imagined. Then I let it dry and started to get excited because it was actually looking nice!
After everything dried, we applied a new back to the top section. My original plan was to use a piece of bead board left over from another project.. When it came time to put it on, it was two inches too short. I had the option of putting on a trim piece to hide the gap, or to go to the store and get another piece. I ran over to Lowe's and bought a differnt kind of bead board that looks more like planking. Also, I decided to run it horizontal instead of vertical. I. Love. It.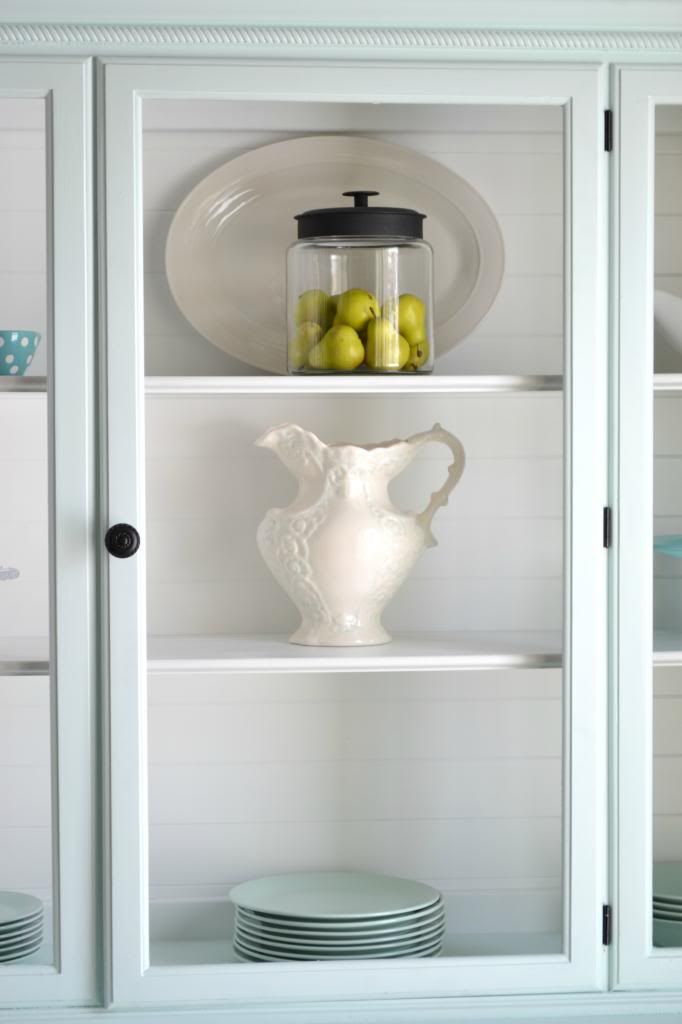 Next, we attached the new knobs (also found at Lowe's) and I love that they have the same rope motif that is found underneath the crown molding of the hutch. At first, I really wanted to do glass knobs, but couldn't justify the $17 (each) price tag. I am so glad I decided to go with black knobs because I really like the contrast.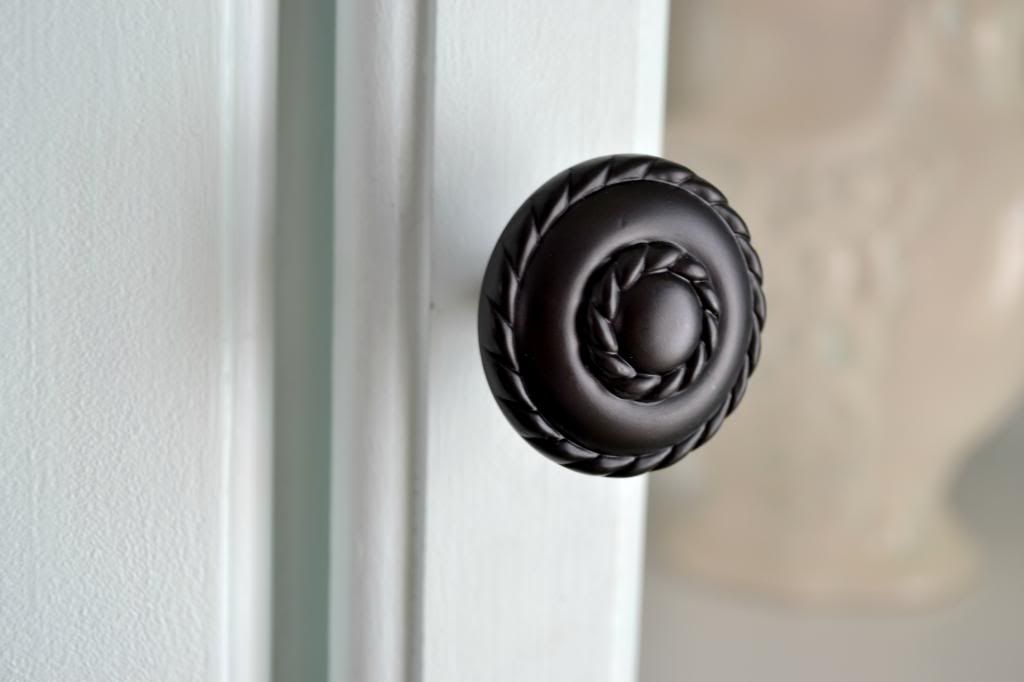 After spray painting some new hinges black, we put it all back together, and the husband and I sat down on the kitchen floor to admire our hard work.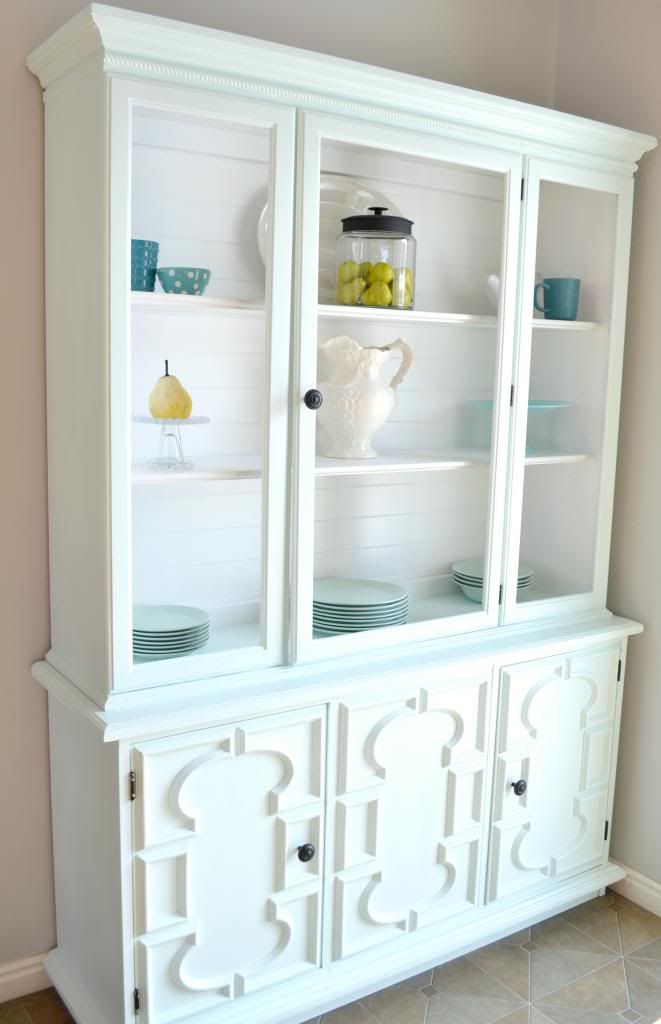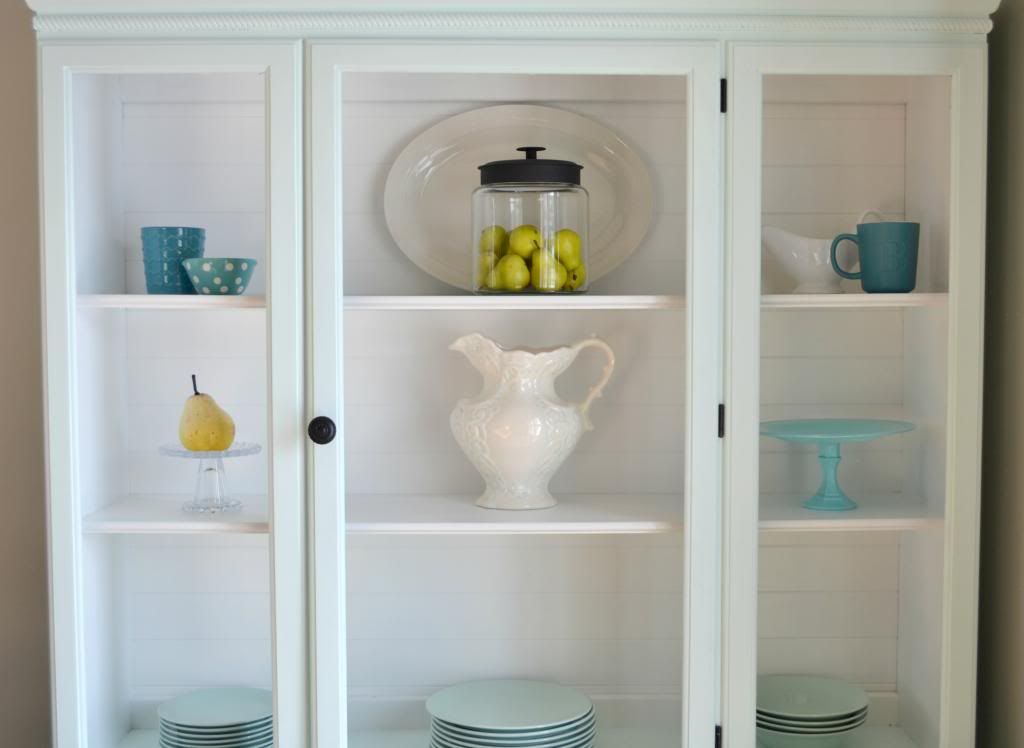 I'm so glad we decided to keep the detailing on the bottom. Its one of my favorite parts of the hutch.